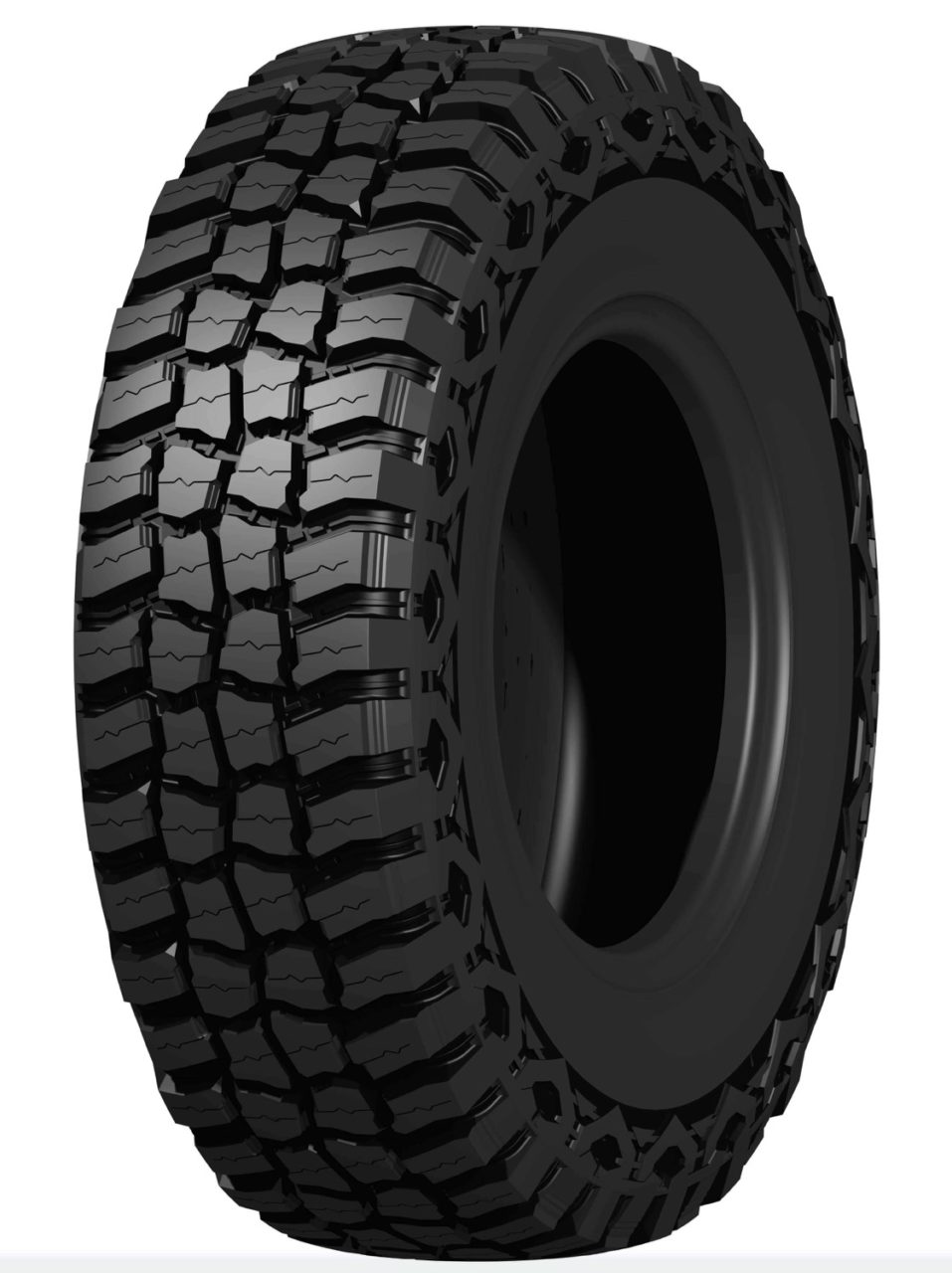 Crusade M/T
50,000 MILEAGE EXPECTANCY
The highly aggressive dual (A/B) pitch pattern provides excellent off-road performance in mud, dirt, gravel, and other soft surfaces.
Integrated stone ejector ribs protect the carcass from stone drilling.
Optimized siping provides element flexibility without sacrificing durability.
Deep buttress area provides additional traction in soft surfaces.
Light Truck and Flotation sizes available.

Available in the following sizes:
| Size | LI/SR | Tread Depth (32nds) | Overall Diameter (inch) | Section Width (inch) | PLY | Max Load @PSI | STOCK# |
| --- | --- | --- | --- | --- | --- | --- | --- |
| LT235/75R15 | 110/107S | 18.27 | 28.86 | 9.25 | 8 | 2335/2150@65 | VZT2467 |
| LT265/75R16 | 123/120Q | 18.27 | 31.65 | 10.51 | 10 | 3415/3085@80 | VZT2457 |
| LT285/75R16 | 126/123R | 19.53 | 32.83 | 11.26 | 10 | 3750/3415@80 | VZT2459 |
| LT315/75R16 | 127/124Q | 19.53 | 34.57 | 12.32 | 10 | 3860/3525@65 | VZT2484 |
| LT265/70R17 | 121/118Q | 19.53 | 31.65 | 10.71 | 10 | 3195/2910@80 | VZT2461 |
| LT285/70R17 | 121/118Q | 19.53 | 32.76 | 11.50 | 10 | 3195/2910@80 | VZT2473 |
| LT295/70R17 | 121/118Q | 19.53 | 33.31 | 11.77 | 10 | 3195/2910@80 | VZT2454 |
| LT275/65R18 | 123/120Q | 19.53 | 32.09 | 10.98 | 10 | 3415/3085@80 | VZT2492 |
| LT275/70R18 | 125/122Q | 19.53 | 33.19 | 10.98 | 10 | 3640/3305@80 | VZT2472 |
| 31X10.50R15LT | 109Q | 18.27 | 30.52 | 10.54 | 6 | 2270@50 | VZT2463 |
| 32X11.50R15LT | 113Q | 19.53 | 31.52 | 11.42 | 6 | 2535@50 | VZT2496 |
| 33X12.50R15LT | 108Q | 19.78 | 32.52 | 12.50 | 6 | 2205@35 | VZT2465 |
| 35X12.50R15LT | 113Q | 19.78 | 34.52 | 12.50 | 6 | 2535@35 | VZT2498 |
| 33X12.50R17LT | 114Q | 19.53 | 32.52 | 12.50 | 8 | 2600@50 | VZT2300 |
| 35X12.50R17LT | 121Q | 19.78 | 34.52 | 12.50 | 10 | 3195@65 | VZT2466 |
| 33X12.50R18LT | 122Q | 19.78 | 32.52 | 12.50 | 12 | 3305@80 | VZT2477 |
| 35X12.50R18LT | 128Q | 19.78 | 34.52 | 12.50 | 12 | 3970@80 | VZT2478 |
| 33X12.50R20LT | 119Q | 19.40 | 32.52 | 12.50 | 12 | 3000@80 | VZT2480 |
| 35X12.50R20LT | 125Q | 19.78 | 34.52 | 12.50 | 12 | 3640@80 | VZT2479 |
| 33X12.50R22LT | 114R | 19.53 | 32.52 | 12.50 | 12 | 2600@80 | VZT2304 |
| 35X12.50R22LT | 121Q | 19.53 | 34.52 | 12.50 | 12 | 3195@80 | VZT2483 |
| 37X13.50R22LT | 128Q | 19.53 | 36.52 | 13.58 | 12 | 3970@80 | VZT2487 |