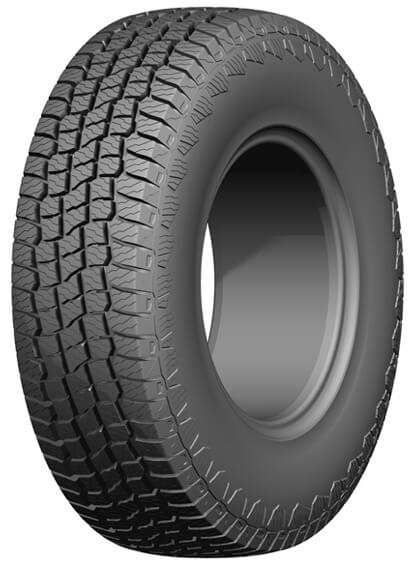 Crusade A/T
50,000 MILEAGE EXPECTANCY
50K MILE LIMITED PROTECTION POLICY • MINI-WAVE SIPES FOR TRACTION
The modern dual pitch (A/B) pattern provides a quiet and comfortable ride with consistent, long-lasting performance.
Large circumferential grooves evacuate water for improved traction in the rain.
Optimized siping provides excellent traction and braking performance in wet and light snow conditions.
The solid center and shoulder elements provide responsive handling and stability.
CUV, SUV, and Light Truck sizes available.

Available in the following sizes:
| Size | LI/SR | Tread Depth (32nds) | Overall Diameter (inch) | Section Width (inch) | PLY | Max Load @PSI | UTQG | STOCK# |
| --- | --- | --- | --- | --- | --- | --- | --- | --- |
| 235/75R15 | 105 | 12.60 | 28.86 | 9.25 | – | 2039@44 | 500AA | VZT1010 |
| 245/75R16 | 111 | 12.60 | 30.47 | 9.76 | – | 2403@44 | 500AA | VZT1035 |
| 265/70R16 | 112 | 13.10 | 30.63 | 10.71 | – | 2469@44 | 500AA | VZT1080 |
| 265/75R16 | 116 | 12.60 | 31.65 | 10.51 | – | 2756@44 | 500AA | VZT1065 |
| 245/65R17 | 107 | 12.60 | 29.53 | 9.76 | – | 2149@44 | 500AA | VZT1030 |
| 245/70R17 | 110 | 12.60 | 30.55 | 9.76 | – | 2337@44 | 500AA | VZT1050 |
| 265/70R17 | 115 | 13.10 | 31.65 | 10.71 | – | 2679@44 | 500AA | VZT1085 |
| 265/70R18 | 116 | 12.60 | 32.64 | 10.71 | – | 2756@44 | 500AA | VZT0517 |
| 275/65R18 | 116 | 13.10 | 32.09 | 10.98 | – | 2756@44 | 500AA | VZT0518 |
| 275/55R20 | 117 | 13.10 | 31.89 | 11.18 | – | 2833@49 | 500AA | VZT1105 |
| 275/60R20 | 115 | 13.10 | 32.99 | 10.98 | – | 2679@44 | 500AA | VZT0519 |
| LT235/75R15 | 104/101 | 14.11 | 28.86 | 9.25 | 6 | 1985/1820@50 | – | VZT1015 |
| LT215/85R16 | 115/112 | 14.11 | 30.39 | 8.50 | 10 | 2680/2470@80 | – | VZT1005 |
| LT225/75R16 | 115/112 | 14.11 | 29.29 | 8.78 | 10 | 2680/2470@80 | – | VZT1000 |
| LT245/75R16 | 120/116 | 16.13 | 30.47 | 9.76 | 10 | 3042/2778@80 | – | VZT1040 |
| LT265/75R16 | 123/120 | 16.13 | 31.65 | 10.51 | 10 | 3415/3085@80 | – | VZT1070 |
| LT285/75R16 | 126/123 | 17.26 | 32.83 | 11.26 | 10 | 3750/3415@80 | – | VZT0436 |
| LT235/80R17 | 120/117 | 14.11 | 31.81 | 9.25 | 10 | 3085/2835@80 | – | VZT0650 |
| LT245/75R17 | 121/118 | 16.13 | 31.50 | 9.76 | 10 | 3195/2910@80 | – | VZT1055 |
| LT265/70R17 | 121/118 | 16.13 | 31.65 | 10.71 | 10 | 3195/2910@80 | – | VZT1090 |
| LT285/70R17 | 121/118 | 17.26 | 32.76 | 11.50 | 10 | 3195/2910@80 | – | VZT1110 |
| 31X10.50R15LT | 109 | 16.13 | 30.51 | 10.55 | 6 | 2270@50 | – | VZT1095 |
| 35X12.50R20LT | 121 | 15.75 | 34.53 | 12.52 | 10 | 3195@65 | – | VZT1120 |